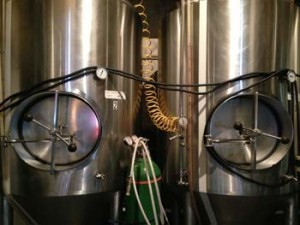 "Life moves pretty fast. If you don't stop and look around once in a while you could miss it." As I embark on this new journey here at the Broad Ripple Brewpub I'm reminded of that line from Ferris Bueller's Day Off. I've had a lot of time to look at what's going on around me and it has been wonderful. The support not only of the community, but friends, family, coworkers (new and old and soon to be), and even the ever growing network that is the brewing industry, has been awesome. I am thankful to have this opportunity to be here and brew the best beer I can for everyone that comes to the Brewpub. Now to introduce myself.
Brewing was not the first thing I thought about doing to get me through life. Accounting, business, graphic design, and web design and development were some of my original career choices. I actually did some web design and development fresh out of college but slowly fell in love with craft beer. I discovered that I could brew beer at home about eight years ago and realized I not only had a passion for making it, but wanted to some day make a living at it. I became a founding member of the home brew club, Midwestern Order of NinKasi, which helped to take my home brewing to higher levels.
In the summer of 2013, I met the person who was soon going to be one of the owners/head brewers of Union Brewing Company, Cameron Fila, and before they opened their doors in December of that year, we began doing test batches out of his garage. When it came time to brew batch number one I was there with him, and we soon worked out a schedule where we could both keep our desk jobs and brew on the side part time. When the contract with my desk job ended I decided to jump head first into the industry and never looked back. This meant I needed to find something more than just part time and working for Union Brewing Company was not going to be enough at that point, so in April of 2014 I joined the crew at Flat 12 Bierwerks. Working my way up to the brew deck from the packaging department I was able to learn a lot about the other side of working in a brewery. It is true what they say, brewing is like being a glorified janitor, a lot of cleaning, sanitizing and moving beer around.
When, in November of 2014, I was offered the job as brewer here at the Brewpub I jumped at the chance. After being here a couple of months I've been able to hang out with our regular customers, and not only get to know them, but to find out what they like. It's a good reason to go back through all the brewery's recipe books to see if I can find some of the beers created by the five previous brewers that regulars have been asking about. I've gotten to know the system and so I'm also excited to whip up some of my own creations.
As I move forward here, I will be brewing the usuals along with some of the more unusual batches of beer I have in my repertoire, including some special one off batches that we'll put on the guest tap lines, so keep an eye out for announcements as those start to roll out. I look forward to getting to know more of our regular customers as time goes by, and hopefully start to see some new faces.
Your friendly neighborhood brewer,
Jonathon Mullens
Social Share