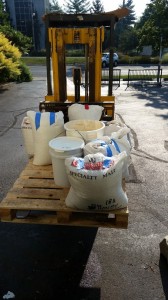 When I first arrived to take over as the brewer here at the Brewpub, John Treeter, the outgoing brewer, and I began discussing doing a really large state wide collaboration. The idea would be to bring in as many breweries as possible and have them show up with a certain amount of grain and a certain amount of hops and brew with it when they all showed up (I still want to do this by the way). Having sort of done this as a homebrewer with stuff I had laying around the house, all the way down to the yeast, I figured I could do something similar here. So I decided I would ask 25 other breweries for 25 lbs of grain (something fermentable) to use in this batch. This would only leave me to decide what hops to use and what yeast to use.
I finally decided that the brewday would work best on September 4th, 2015. It gave me a deadline and allowed me to start letting the breweries involved know when it would go down. I started collecting the ingredients in June of this year, knowing my son was going to be born close to the end of July. Hoping to have all the grains collected by his birth was a bit much to try and have happen, so I picked back up where I left off. As the last few weeks until the brewday drew close I began to wonder if I was going to be able to pull it off. Fortunately having a chat with Ted Miller, former brewer at the Brewpub, who now owns and runs Brugge Brasserie and Outliers Brewing Company, led me to the last few contacts that I needed to finish collecting from the remaining breweries. To help get my wife and newborn out of the house, and to test a road trip with the new baby, I had them come with me to 3 Floyds, 18th street, Upland and Bloomington Brewing Company, trips we took on two separate Fridays. As the last week was upon me, I still had a couple of breweries who ended up making a special delivery on September 3rd, the day before the brewday. I also found out that John Hill was going to be out of town at a car auction admiring some cars and dreaming of what could be his.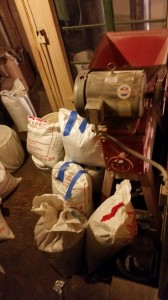 So stressed (but only a little) and bummed John Hill wasn't going to be there I got in extra early to start mashing in on the 4th of September. Things were grooving, and in rolls Justin McIntosh from The Dump Buckets, a group of craft brewers who document all things craft beer related, with a video camera to document the whole thing. He instantly broke out the camera and started recording as I was finishing the mash in and all that he captured, then and later on, is going to be part of a full documentary on the 25 years of the Brewpub's shenanigans. I continued my brewday routine and about an hour later brewers John Mills and Phillip from Carson's walked through the brewery door. After that, Josh Hambright, from one of the newest breweries, Central State, came walking in. This motley group of brewers and one lonely blogger were the first to hang out with me during the brewday. As I went back to the kitchen to grab some cambros for hops and another cup of coffee, in walks John Hill to fix something in the kitchen. Not sure who called him in, but I thank them, because now I could let him know that I was brewing up something special, not only in the Brewpub's honor, but his. I asked that once he had repaired what he needed to, he should stop in and chat with those who were there and he obliged. This quickly became a history-on-tap discussion, as John discussed some of his humble beginnings here in Indy. My work here was done and I had accomplished what I set out to.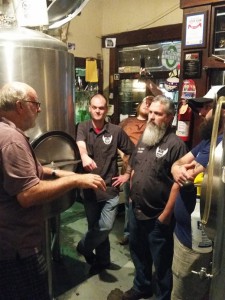 Oh wait, I still needed to finish brewing this batch of beer I started. Well let's keep this day rolling shall we? Throughout the day, more folks from other breweries, and bloggers in the know, continued to stop by and hang out in the small confines of the tight fitted brewery. Those folks included Erik Fox and Sean Lewis from Flat 12, Kevin Matalucci (former Brewpub brewer and longest running brewer for the Brewpub) and Bobby from Twenty Tap, Tony Fleming and Will Moorman from Tow Yard, Phillip Hilligoss from Midwest Breweries, Brian Couch of @Craftbeer23 on Twitter and Mike Hofferman, who currently resides at Flat 12. These folks popped in and out and celebrated the event with me throughout the day. The two representatives of Carson's were there almost the whole time and Justin stuck around until almost the very end of what ended up being a very long brewday and not neccesarily because I was distracted, but I had to learn a lesson on the balance of the mash tun. Despite working for 14 hours, it was one of the best working days I have ever had. This industry is great because of the folks that are willing to assist a brewer to make something magical happen.


Don't expect this brew to hit your lips until November 14th when we celebrate turning 25. I know, I know, seems like a long way away but really it will be here before you know it. Plus, some time to age will do this brew some good. You might also be asking, what style of beer it is, but all I can tell you is that it's going to be an ale, an ale like you've never had before.
Thanks to everyone who was involved with this day and this brew. I don't think we broke any records with 25 other breweries being involved, but maybe it's a start to see what we can do as a state next time. Hope to see everyone on November 14th to celebrate 25 years here at the Brewpub.
Here are the breweries and what they provided. They all deserve a huge thanks for being a part of this: Redemption Alewerks (Honey Malt), Flat 12 Bierwerks (Flaked Barley), Great Fermentations (Grain Sweepings), Oaken Barrel (Abby), Mashcraft (Munich "35"), Black Acre (Melinoidian), Central State (Rye), Triton (Torified Wheat and Munich II to equal 25 lbs total), Powerhouse (2 Row), Carson's (Marris), Daredevil (Wheat), Black Swan (Crystal 120), Barley Island (Vienna), 3 Floyds (Dark Crystal), 18th Street (Bonlander), Brugge Brasserie/Outliers (Special B), Thr3e Wise Men (Smoked), Lafayette Brewing (Munich Type I), Bloomington Brewing Company (Belgian Pale), Upland (Crystal Wheat), Mad Anthony (Acidulated), Tow Yard (Midnight Wheat), People's (Aromatic 150), New Albanian (Carared) and Twenty Tap/Twenty Below (Pilsen LME).
Cheers,
Your friendly neighborhood brewer.
Social Share